SAVOYE announces a partnership with the Canadian/Quebec company, GCL Group, as distributor/integrator of ODATiO® Cloud Access WMS and TMS software.
GCL Group is a company located in Montreal and specialized in warehouse and distribution centres, from consulting to project management. GCL Group can integrate dedicated software (WMS) and assists selection process of automated systems.
GCL Group now becomes distributor and integrator of ODATiO® Cloud Access, a 100% standard software for the supply chain and hosted on Microsoft Azure.
ODATiO® Cloud Access merges a complete WMS and TMS into a single modular application and has been designed to be easily integrated and used by both customers and partners, thus providing complete autonomy in terms of implementation and support.
From a functional point of view, ODATiO® Cloud Access is particularly well suited to unit picking processes and shipper-oriented transport management operations.
Besides establishing itself in various countries in Europe, Middle East, North America and Asia, this additional formed partnership is also part of the international development program of SAVOYE to boost the global sales of its ODATiO® Software.
Hervé Aubert, Strategic Partnerships Director for SAVOYE, said: "This partnership with a recognized supply chain expert like GCL Group will definitely advance and strengthen our position as a provider of supply chain and logistics solutions in Northern America."
On his part, Antoine Grand'Maison, Practice Director Supply Chain Software for GCL Group, said: "Extending our portfolio with ODATIO® is a strategic step forward for GCL Group in order to serve with a cutting-edge solution our Canadian/Quebec market after more than 30 years of experience as Supply Chain & Logistics Experts."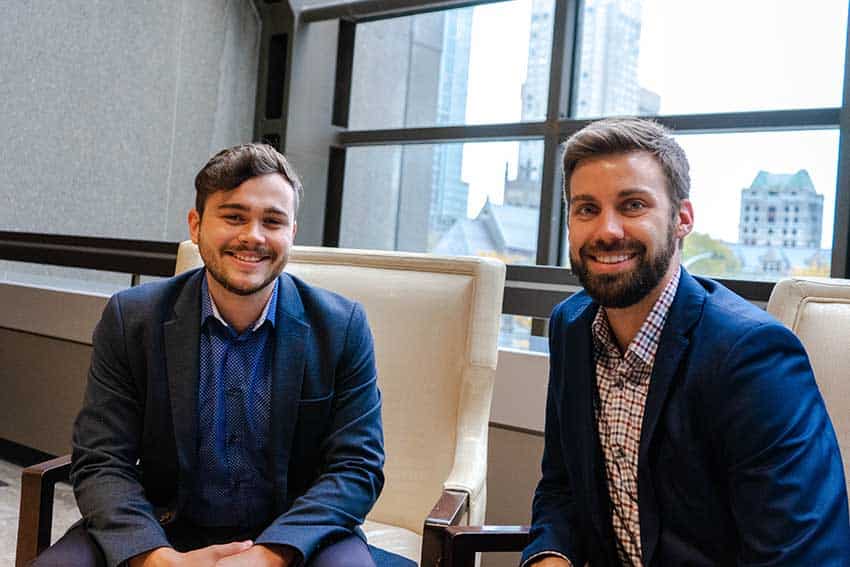 Antoine Grand'Maison, Practice Director Supply Chain Software, and Charles-Antoine Marcil, Managing Director, at GCL Group.
About GCL Group
GCL Group is a consulting firm specializing in logistics and supply chain. Founded in 1985 and with 35 years of experience, the company has an international presence with offices in Montreal, Miami, Paris, Casablanca and Sao Paulo. More than 3,000 projects have been carried out in different industries: Food, Distribution, E-commerce, Retail, Public Services, Manufacturing, Logistics providers, etc.
Our goal is to accompany our clients in high value-added projects by bringing realistic recommendations and supporting them in their transformation projects.
GCL Group's teams of consultants are defined as follow:
Supply Chain, to measure the efficiency of our clients' operations – Support your team in the procurement process, contract negotiation and supplier evaluation. This can be developed further by analyzing your current inventory level, product rationalization and purchasing parameters.
Distribution Network and Transportation, to assess the strategic configuration of our clients' network – Taking the decision on the location of your next distribution center is of the utmost importance and is based on multiple parameters. Our team of experts can develop multiple scenarios through simulation to optimize the inventory flow within your distribution network for the lowest cost and highest service level.
Warehouse and Distribution Center, to design, automate and continuously improve our clients' warehouse practices– Review and optimize your warehouse configuration to maximize the space, productivity and safety of your operations based on our knowledge of the latest trends in warehouse equipment and automation.
Digital Transformation, to implement systems that adequately support our clients' growth – The physical flow of material is supported by the information flow within your systems. This is where our team can lead digital transformation projects by supporting our clients in digital audit, supply chain software selection and implementation.
Training and Coaching, to stay ahead of best practices and train the teams – We developed multiple supply chain webinars and classes to support our clients in the growth of their supply chain knowledge. We also carry out tailor-made coaching sessions for specific needs and finally we organize two events each year dedicated to the role of supply chain in the industry where several leaders present the challenges and best practices in place in their compagnies.
Interim management, to provide the necessary resources to carry out specific projects– With our team of experts, we can carry out long term projects with our clients who are suffering from the lack of workforce. Finding someone reliable, qualified, and immediately available for a very specific job can be challenging, that's why we train supply chain consultants ready to work with our clients on temporary contracts.
As collective intelligence is at the heart of our approach, we offer a unique expertise to our clients to accompany them through the realization of various projects, always with the goal of contributing to the growth of their companies.
Here are a few companies we helped over the years : McKesson | Hydro Québec | Cook it | Bombardier | Héma Québec | Cascades | Décathlon | Frank & Oak | Mondou and many others !
To talk about your future projects, contact one of our experts: https://www.gclgroup.ca/