Dijon, July 06, 2021 – The health crisis had no hold on Savoye. The company pursues its strategic development plan with enthusiasm and success: new international establishments, external growth and new products.
The world-class French leader, specializing in robotized and computerized solutions for the Supply Chain, announces a turnover growth of 16.5% and enters the TOP 20 worldwide System Suppliers.
On this same day in July 2018, Savoye unveiled its ambitions in order to sustain and accelerate its development: to become a player in the global TOP 20 in intralogistics, to offer the best supply chain technologies and software, and to have an extensive international presence.
Since then, Savoye has not weakened, quite the contrary and has met its development schedule. In 2018, Savoye created SAVOYE North America, which will bring together nearly a hundred employees by the end of the year, and which already has a manufacturing plant near Chicago. Then in 2019 and 2020, Savoye rethought its organization in the Benelux countries and Italy, offices now each with around ten people in charge of sales and pre-sales.
After having opened a new establishment in April in Dubai to cover the territories of the United Arab Emirates and Saudi Arabia, Savoye announces its installation in Singapore, since July 1.
Up 16.5%, the turnover of Savoye, for all of its warehouse automation and supply chain software activities, reached €151.1 million in 2020. The level of new orders also on the rise, at €178 million, allows 2021 to be considered calmly.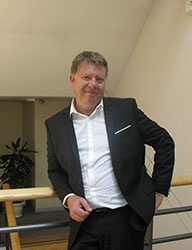 Rémy Jeannin, Savoye CEO
These good results allow Savoye to be the only French company to make its entry into the global TOP 20 for intralogistics of the benchmark American media, Modern Materials Handling.
Another aspect of Savoye's development concerns external growth and the multiplication of its distribution-integration partnerships. In 2020, Savoye acquired SoCloz, which now enables it to digitize the consumer's journey in a unified manner, from warehouse order preparation to stores. In terms of partnerships, Savoye can also count on the powerful New Zealander, Scott, for solutions dedicated to the agri-food and meat sector, or even the Japanese Tanax and the Czech Ates.
These business extensions only make sense on the condition of having modern, relevant solutions in line with market needs and developments. Thus ODATiO, a modular WMS and TMS solution unveiled last February, represents a major innovation from Savoye in the field of Supply Chain Execution software
At the same time, Savoye launched its autonomous and collaborative mobile robot solution, the result of combining its software expertise and its experience in logistics flows.
But Savoye is not going to stop there! New solutions are being finalized and will be revealed before the end of the year.