In April 2022, the new SAVOYE partner, ITO PallPAck ran a new warehouse equipment project for the electronic Norway company Komplett Group and acquired 3 JIVARO packing machines with 3 tray erectors to SAVOYE to match his customer's needs.
Komplett is a leading online retailer of electronic products in Scandinavia, offering one of the market's broadest selections of consumer electronics and business solutions. Their solutions include sales to public and private enterprises, large and small, as well as wholesales to retailers. The project included the installation of 3 SAVOYE's JIVARO packing machines for the Sandefjord warehouse of Komplett Group which is 90 minutes' drive from Oslo.
Selling technologies thanks to ITO PallPack Integration capabilities
Christian Hagen, Sales project manager at ITO PallPAck explains: «for this project ITO PallPack delivered both software and automation equipment, along with the expertise for the equipment and software integration providing the complete supply chain ending by the SAVOYE packing machines. We have known SAVOYE for 20 years and we are ensured with the technologies. We have now been the SAVOYE partner since 2020."
Komplett got equiped in 2022 with a new warehouse intralogitics solution, including the SAVOYE Jivaro height reducing machines combined wih tray erectors  ITO PallPack provides, as actually ITO PallPack provides both software and automation solutions and ensures all process of system and equipement integration, to ensure the complete supply chain.
«By automating erecting, height-reducing, and closing of boxes, we gain multiple advantages. The warehouse efficiency increases, the ergonomics' for the workers improves and the volumes of each box are reduced to a minimum which means more boxes in each transport unit. This results in a lower carbon footprint because we fit several more orders in each truck departing our warehouse. Sustainability is central in Komplett Groups strategy, and this business case ticks all the boxes in this perspective. By eliminating most of the air and plastic in our shipments, we save about 390 transport containers a year and reduce the amount of plastic by approximately 17 tonnes. » explains Bjørn-Tore Svendsen, Director of Logistics from Komplett Group.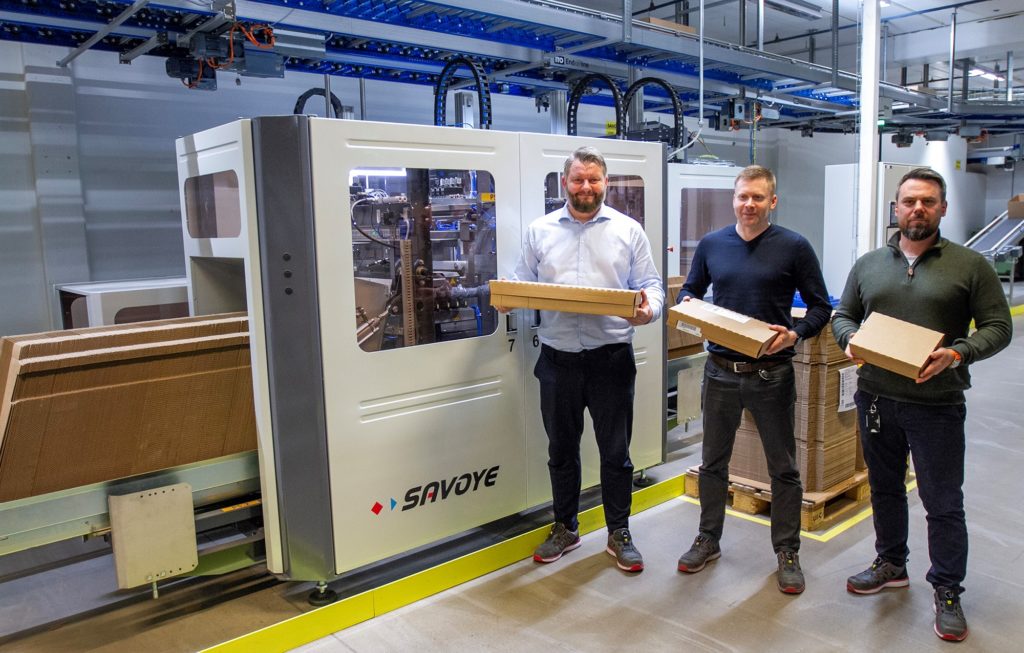 In front of the JIVARO packing machine at the Komplett warehouse from left to right: Bjørn-Tore Svendsen Director of logistics from Komplett Group, Kenneth Hofstedt, Head of Technical division, and Kjetil Sundland Henriksen, Warehouse Manager.
Christian Hagen, ITO: "Komplett Group is growing still, and we expect to address new equipment needs in the future, with all the service needed as this aspect is one of the important one about our offer."
Herve Aubert, SAVOYE partnership director: «ITO Partnership is a real plus in Scandinavia for SAVOYE as the logistics expert can address major key players of retail and e-commerce in Scandinavia.»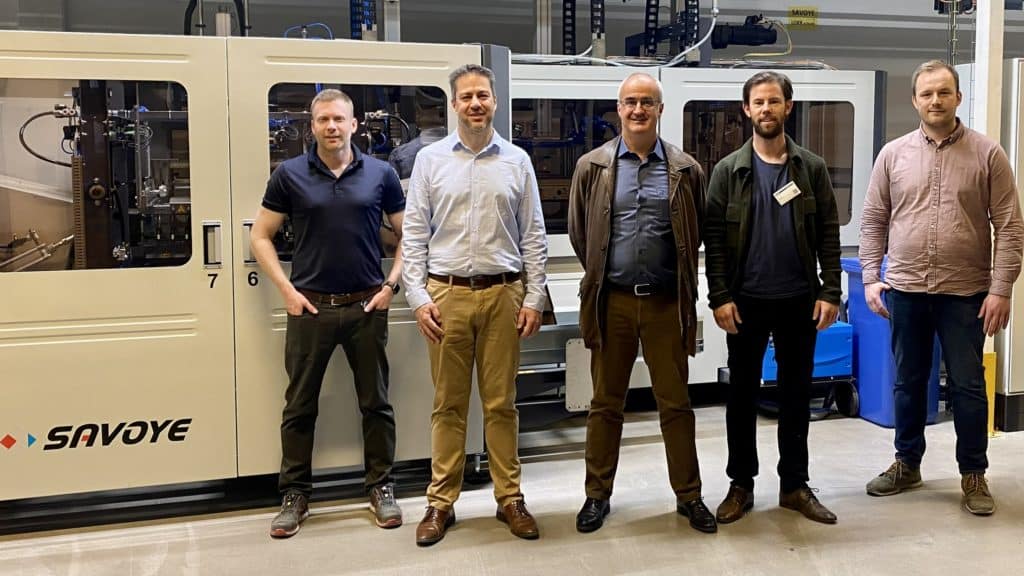 From left to right: Kenneth Hofstedt, Head of Technical division from Komplett, Julien Panarioux SAVOYE equipement partnership manager, Herve AUBERT partnership director for SAVOYE, Axel Hagen, CEO ITO PallPack AB Swxeden and Andreas Skuterud, ITO project Manager.