SAVOYE, a global player in the design, manufacture and integration of automated and robotic systems for intralogistics and publisher of software solutions for the Supply Chain, becomes a partner and integrator of HAI ROBOTICS, world leader in Autonomous Case-handling Robotics (ACR) system for order picking, putaway and dispatching.
The coverage of the agreement concluded between the two companies is global and thus allows Savoye to offer this new solution in Europe, in the Middle East – and in particular in the United Arab Emirates where Savoye created a subsidiary this year, as well as in North America and Asia.
"The partnership with HAI ROBOTICS allows us to ideally complement our own range of solutions for goods-to-person order preparation. Indeed, our X-PTS® technology is more particularly relevant to meet high-performance needs and large volumes of orders to be processed", explains Laurent Bollereau, Strategy and Solutions Engineering Director. "The HAIPICK solution, based on HAI ROBOTICS robots, is perfectly suited to smaller flow contexts."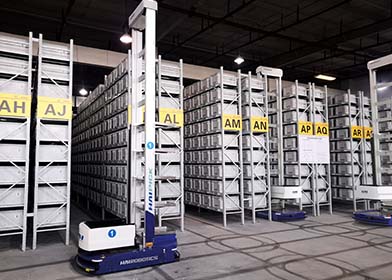 The ACR robot HAIPICK
HAI ROBOTICS, a pioneer and leader in this type of mobile robot, offers a complete range that perfectly meets the requirements of the European, North American and Middle Eastern markets.
The HAIPICK system uses autonomous order picking robots that pick and place boxes or bins on storage shelves up to 5 to 7 meters high and able to carry up to 8 loads to continuously feed goods-to-person picking stations. The solution works in cold environments down to -10 °C.
"The HAIPICK solution offered by SAVOYE combines HAI ROBOTICS' mobile robots with our in-house technologies: goods-to-person X-PTS® Pick Station, LED strip-based put-to-light shelves, INTELIS® conveyors, WMS and WES control software." specifies Laurent Bollereau. "This solution can be supplied on a stand-alone basis or as part of a more global system, combining or paralleling several order preparation processes. This is also the added value of working with a stakeholder like SAVOYE."
The HAIPICK solution is a flexible and scalable solution that benefits from a fast installation time with an operational startup that can be achieved in less than 5 weeks. "The partnership with HAI ROBOTICS allows us to provide solutions that are ever better suited to the current and future needs of our customers operating in rapidly evolving and even changing markets, by offering them robust technologies in the service of long-lasting systems." concludes Laurent Bollereau.
"We believe that leveraging HAIPICK solution with SAVOYE's expertise in supply chain and warehouse automation, this partnership will provide a set of unique opportunities for both of us. We are excited to partner with SAVOYE, and we are eager to explore this partnership to its full potential", shares Vice President of Sales Kane Luo.
About HAI ROBOTICS
HAI ROBOTICS is a pioneer in autonomous case-handling robotic system (ACR). The company is committed to providing efficient, intelligent, flexible, and customized warehouse automation solutions through advanced robotics technology and AI algorithms and creates value for each factory and logistics warehouse.
The HAIPICK solution developed in 2015 is the world's first autonomous case-handling robotic system put into commercial operation. Since then, it has been applied in e-commerce, 3PL, apparel, electronics, energy, manufacturing, medicine, and other industries. With the HAIPICK solution, customers can realize warehouse automation transformation in just a week, increase storage density by 80-130%, and improve workers' work efficiency by 3-4 times.
Headquartered in Shenzhen China, HAI ROBOTICS is now with over 1,000 staff and has branch offices in Hongkong, Japan, Singapore, US and Netherlands, serving clients from over 30 countries and regions. In March 2021, HAI ROBOTICS secured a series B+ funding of $15M.
Site web : www.hairobotics.com