SAVOYE, a leading global warehouse automation integrator and software publisher in the Middle East, signed a contract with New East General Trading L.L.C., a leading automotive parts distributor in the region, to provide the company's Dubai Distribution Centre with automated solutions. SAVOYE will automate New East's distribution centre by integrating its highly efficient Autonomous Case-handling Robots (ACR) solution, which is the first-of-its-kind to be employed in the Middle East region.
The agreement is a key milestone for both parties as they are collaborating to advance the spare parts supply chain industry by fostering innovation and increasing its efficiency, while setting higher benchmarks for automated solutions in the Middle East. The advanced solution offered by SAVOYE is based on SAVOYE's Intelis conveyors, Haipick Autonomous Case-handling Robots (ACR) and, Pick-To-Light technology. The entire system is managed by the SAVOYE Warehouse Execution Software (WES), which synchronizes robots and conveyors with customer processes in the most effective and seamless way. SAVOYE's innovative ACR solution is designed to revolutionise the supply chain sector by streamlining complex internal systems and delivering better services, quicker results, and reduced prices.
Alain Kaddoum, Managing Director of SAVOYE Middle East said: "We are delighted to be chosen by New East General Trading, a long-standing parts distributor in the automotive spare parts industry since 1992, and offer our innovative solutions to further improve their operations. This move reflects our constant efforts to expand our portfolio by forging alliances with businesses across the region. Furthermore, we consider this cooperation to be an ideal opportunity to increase awareness on our software and automated solutions in the region and beyond. Over the years, the supply chain sector has witnessed enormous changes owing to the growing demand from consumers. As a result, this has pushed companies to evolve and cater to the changing needs of its customers. As a leading provider of supply chain and logistics solutions, we are committed to serving the industry and advance its growth through our host of cutting-edge technologies."
Ahmed Ahli CEO at New East General Trading said: "We are pleased to join forces with SAVOYE and leverage its solutions to further enhance the efficiency of our storage and order preparation operations. Through its suite of most advanced and ground-breaking technologies, SAVOYE has been driving growth in the supply chain industry, increasing its transparency, efficiency, as well as streamlining operations within the sector. By integrating SAVOYE's expertise into the operations of our Dubai Distribution Centre, we hope to improve efficiency in the trade of automotive parts between the UAE and other GCC nations."
SAVOYE has been contributing to the digital transformation of the supply chain sector through its advanced end-to-end technological solutions that cater to all the industry needs. The company efficiently handles a variety of small to large-scale projects in entirely manual or highly automated warehouses. Automakers have witnessed unprecedented pricing power and profits per vehicle due to resilient demands and low inventory in the market. This has led to disruptions in the supply chain of parts, which in turn has an impact on vehicle production. To satisfy these growing expectations and demands, solution providers within the sector are innovating and delivering superior solutions.
Since the demands in the supply chain industry are expected to continue growing, SAVOYE's prowess in software, automation, solution design and integration will help enhance its partners' operations and efficiently cater to each customer's requests and demands.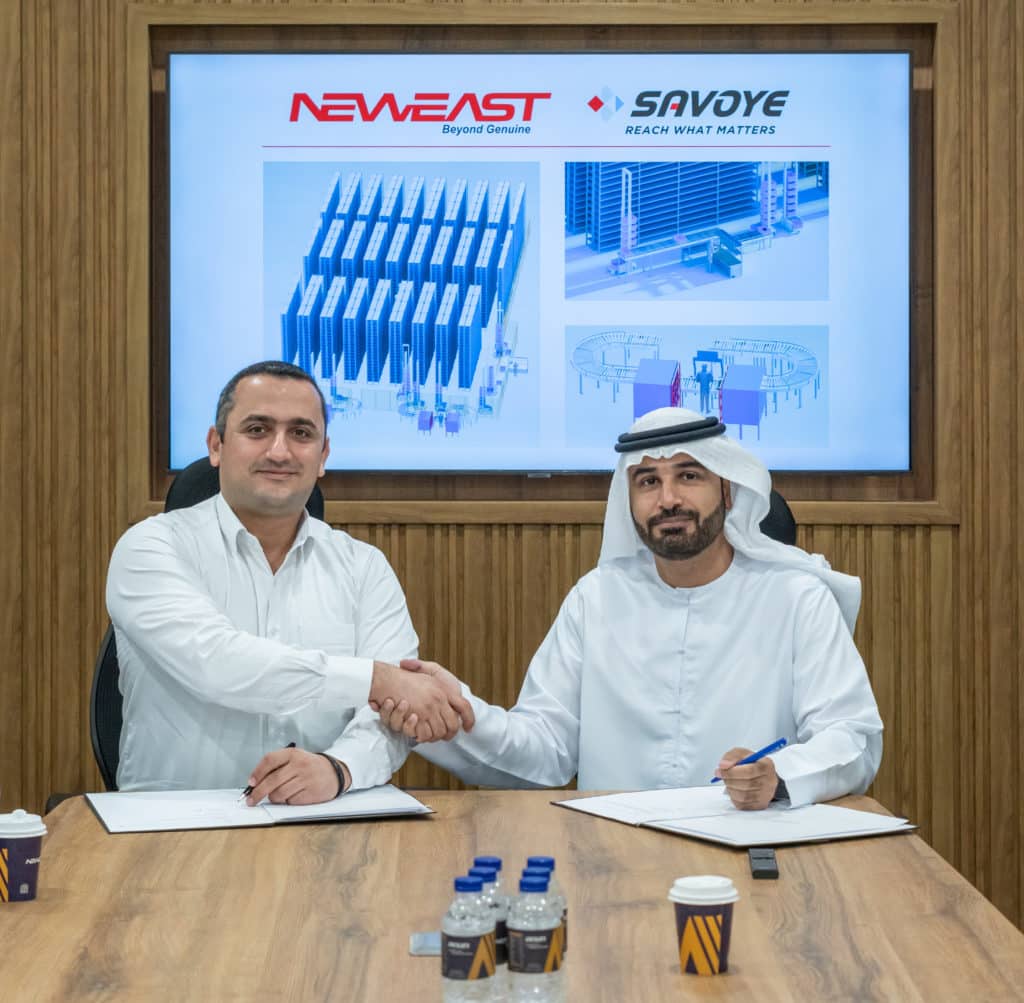 Alain Kaddoum, Managing Director of SAVOYE Middle East and Ahmed Ahli CEO at New East General Trading
Cover picture : Frédéric Zielinski – SAVOYE EMEA Managing Director, Alain Kaddoum – SAVOYE Middle East Managing Director, Ahmed Ahli, NewEast CEO, Henry Shaaya, NewEast Managing Director, Dimitris Revynthis, NewEast Group Operations Manager, Guru, NewEast Group Head of Business Systems