Savoye, a designer and integrator of intra-logistics and supply chain solutions is unveiling its new supply chain execution management software solution. Named ODATiO, it is an innovative, scalable and tailor-made solution for the new demands of a constantly changing sector.
While logistics managers expect configurable solutions, capable of adapting to changing models and processes, Information Systems Departments are seeking simple, full web and cloud solutions. So, to meet these multiple requirements, support developments in the sector and the constant growth of its customers, Savoye has undertaken significant R&D work, technical and functional studies, framework development, collection and analysis of new processes and designed a software program that meets all these new requirements: ODATiO. "More flexibility in terms of configuration, more autonomy with the processes, and increased data interoperability, etc. Our customers expect their software solutions to be rolled out on several sites in an optimized, rapid and replicable way. That is why we have designed ODATiO as a solution that is both standard and scalable and which meets the latest market criteria", states Fréderic Bouchet – Advanced Software Sales Director at Savoye.
Striking down logistics barriers to manage the overall supply chain
To make this happen, ODATiO doesn't offer two software programs, but a single program comprising a package of Warehouse Management and Transportation Management functions. And therein lies the solution's other real innovation – its modularity. Users can opt for either of the modules, or both, in SaaS mode or with a license. "We wanted to strike down the barriers between these two key supply chain tools to fully optimize warehouse efficiency and beyond. Beforehand, a site manager's responsibility only went as far as dispatching at the loading docks. Today, this extends to the end customer. Our role is to provide this extended vision of operations without adding complexity. On the contrary, we want to simplify processes and the interfaces between each key software tool for this overall optimization", points out Abdessalam Khobiza, Software Publishing Director at Savoye. To take this a step further, and with Savoye's considerable intra-logistics expertise, the application solution also integrates natively with all automation, robotization and order picking equipment developed by the company, solidifying this unique automation/software foundation.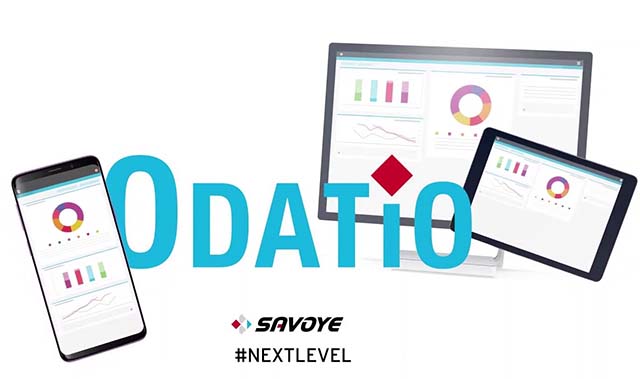 Combining modernity, simplicity and responsiveness
To make this happen, the supply chain specialist firstly created an open and proven technological foundation capable of supporting future developments, driven by data but also the various processes applied in warehouses. Furthermore, the solutions are built according to the GS1 standard, combining the power of this standardization with the simplicity of a classic interface. Finally, ODATiO is based on APIs, application program interfaces, to strengthen the interactions between other systems and supply or enrich the related data. From a simple data interchange to the API, including GS1 standardization, ODATiO integrates all the innovative technologies on the market, from the simplest to the most modern, for comprehensive management, promoting exchanges and activity monitoring. Regarding monitoring and responsiveness, each user can customize his own cockpit using predefined widgets, enabling him to supervise only what is essential to him. Each widget in the cockpit can be clicked on, enabling the user to quickly identify the cause of an identified anomaly, without leaving the application. Operational management is more efficient, as you see only the relevant KPIs, saving you a significant amount of time when it comes to making urgent decisions.
Better budget management thanks to SaaS, speed of implementation and execution, modularity, scalability, simplicity, over 50 intra-logistics business rules expected by the market, fully configurable and on any data to meet the requirements of 50 decision points, ODATiO not only leads to real financial gains but also business advantages, regardless of the sector or country in question.
A stable and long-lasting partnership with its customers
A few words about its previous solutions: LM XT, MAGISTOR® and LOGYS, Savoye will, of course, continue to serve and support its customers and their existing tools. "All our solutions are maintained but change, either as standard or for specific points, and upon request, we can equip other sites, depending on requirements, with the solutions currently used". And for customers who wish to migrate to ODATiO, Savoye has anticipated this. savoye tools, identical interfaces, recovery of data history, etc. Savoye has thought of everything to enable existing customers to make the most of this new solution, based on the same genetic codes of previous solutions.
Already in production with a customer in its Warehouse Management iteration, with a second customer for its Transportation Management functions as well as with a third for a combined Warehouse Management and Transportation Management solution, ODATiO is already operational and destined to be implemented with numerous customers in France and abroad. "Our customer that piloted the integrated solution is already very satisfied with the flexibility and increased visibility offered by the Transportation Management and Warehouse Management modules. By the end of the first week of testing, our customer quickly adopted the solution, exceeding the expected number of orders. This success gave us the green light to launch the product with confidence and with peace of mind", explains Fréderic Bouchet.
The peace of mind to innovate
"Thanks to ODATiO, our customers can continue their partnership with Savoye, with complete peace of mind, with the guarantee of being able to adapt to whatever may happen in the future: growth, logistics development and any external events that have a strong impact on the sector. ODATiO is the result of 35 years of technical and operational experience at Savoye. This internal strength is supported every day through our discussions with our customers and partners. These are the people who have enabled us to achieve this level of design. They are at the heart of this development", concludes Abdessalam Khobiza.